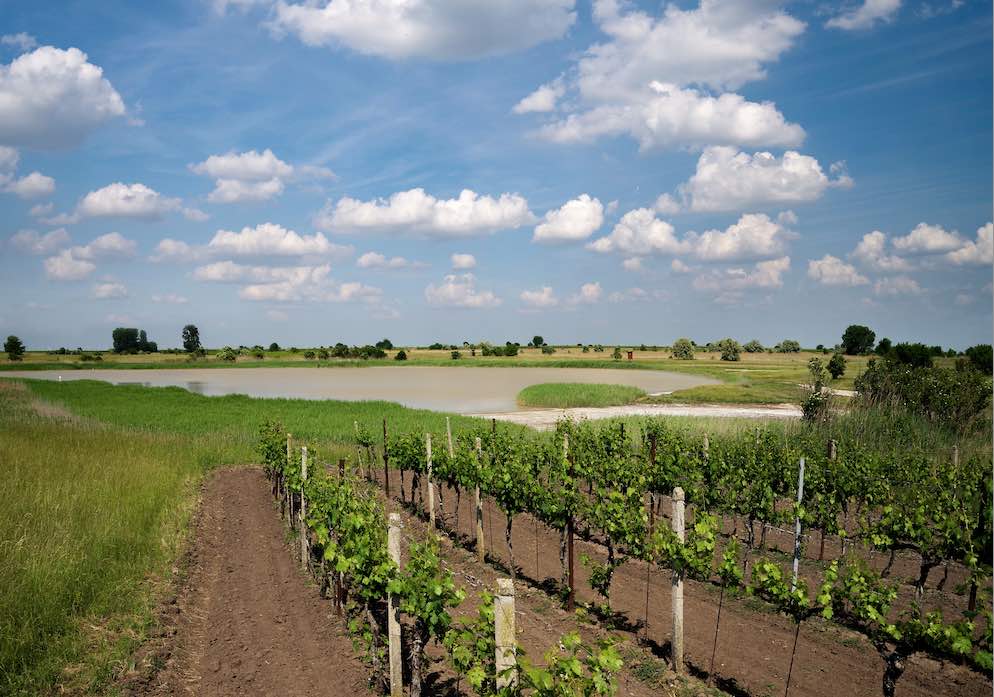 The best-known Austrian noble sweet wines probably come from Rust and Seewinkel, located east of Lake Neusiedl. The climate prevailing on Lake Neusiedl particularly favors the development of Botrytis, which makes it possible to harvest grapes for Beeren- and Trockenbeerenauslese in almost all years. On the east side, the botrytis development is by a variety of lakes and small saline water-based paints reinforced. In Podersdorf, Illmitz and Apetlon, villages in the Seewinkel, winemakers also see these bodies of water as a temperature reservoir. Great importance is also attached to the saltiness of the sandy and/or gravelly, quartz-rich soils, because how piquant a sweet wine is, is said largely depends on the amout of salt the vine absorbs.

The main grape varieties in Seewinkel are Chardonnay, Muscat, Sauvignon Blanc, Traminer, Pinot Blanc and Welschriesling, and you can also find Bouvier, Muscat-Ottonel, Zweigelt and Sämling 88.
We tasted, so to speak, an entry-level Trockenbeerenauslese (TBA) from Kracher, the Noble Reserve Trockenbeerenauslese Non-Vintage, a cuvée of different grapes and vintages, probably not all from Seewinkel – the label indicates Burgenland as the origin. Young wines, probably because of the acidity, blended with riper wines – we didn't find any further information about the Rebcuvée. In terms of price, the wine is really the entry into Kracher's world of Trockenbeerenauslese – the average price there is just over €60 for half a bottle, i.e. around 1.5 times the Noble Reserve.
Noble Reserve Trockenbeerenauslese Non-Vintage, Weinlaubenhof Kracher (Tasted wines)
Botrytis, candied apricot, some pineapple, delicate herbaceous hay flowers, fine acidity, dense sweetness, long, delicately acidic finish, very good wine.