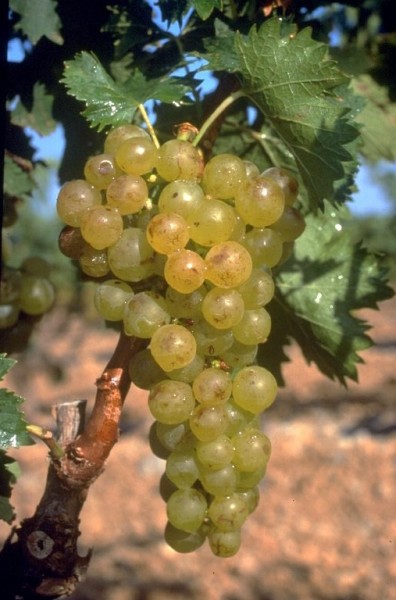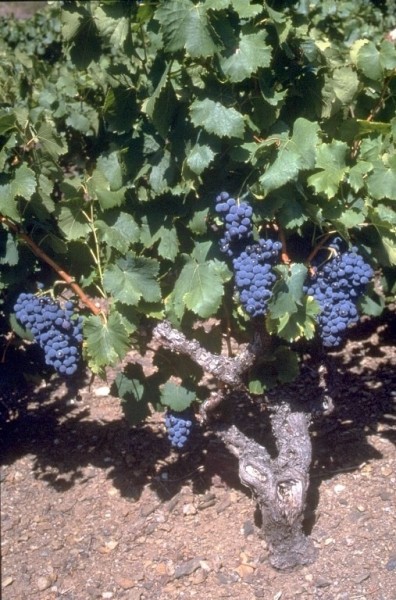 Muscat à petits grains blancs is in the Muscat wines of all appellations of Vin Doux Naturel main grape variety, in addition in Beaumes-de-Venise Muscat à petits grains rouges may be used. In the appellation Muscat de Rivesaltes the second permitted variety is Muscat d'Alexandrie, which shows less finesse than Muscat à petits grains blancs. In addition to these main grape varieties, there are no other approved grape varieties in the Muscat appellations.
In the other appellations of Roussillon and in Rasteau at least one of the varieties of Grenache (Blanc, Gris, Noir) is a main grape variety of the different wine styles. In Roussillon in addition Macabeo, Malvoisie du Roussillon (Tourbat) and the two Muscats common in Roussillon may be used as a main grape variety. Other varieties may be used in shares of mostly less than 10%, in some appellations of Roussillon also up to a maximum of 20%. The best known in Roussillon are: Carignan Noir, Cinsaut, Counoise, Mourvedre, Syrah. In Rasteau in addition to these are used another twelve grape varieties of the Rhône, such as Clairette, Marsanne, Roussanne, Piquepoul and Viognier.
Vin Doux Naturel labeled with rouge, grenat, rimage or tuilé must contain at least , 75% Grenache Noir, often even 90%. Grenache Noir is ideally suited for the Vin Doux Naturel due to its high resistance to heat, drought and wind and its tendency to oxidation. Grenache Blanc and Grenache Gris are very full-bodied, fruity and low in acidity and are well suited for the white, rosé and ambré versions.
Learn more about Wine growing regions, Viticulture, Vinification and Wine Styles of Vin Doux Naturel.