Appellations of Vin Doux Naturel can be found in Roussillon, in the Languedoc, on the Rhône and in the north of Corsica. In all appellations there is a Mediterranean climate with warm to hot, very dry summers and mild winters.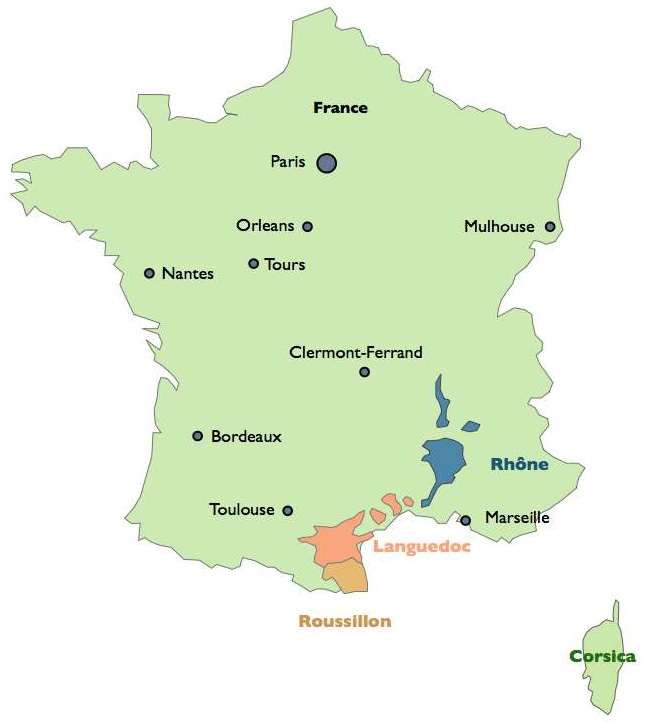 To the overviews of the growing areas of Corsica – Languedoc – Rhône – Roussillon
The average annual temperatures of the appellations are between 13 ° C and 16 ° C. The sun shines in all areas more than 2,500 hours per year. Most of the annual rainfall of 500 mm to 800 mm falls in the fall and early spring. This is sufficient even in dry regions to maintain the water reserves of the soil. In all areas there are several, often strongly blowing winds, which ensure a rapid drying of moisture on leaves and grapes and thus represent a natural protection against plant diseases. In the growing areas in the higher elevations of Cap Corse, Rasteau and the appellations of Roussillon, whose vineyards reach up to 600 m in height, it is slightly cooler than at the seaside. Even in the appellations Muscat de Beaumes-de-Venise and Muscat de St-Jean-de-Minervois, located at an altitude of about 200 meters, the cooler location is characterized by more pronounced aromas of orange blossom and more complexity.
The different appellations of Roussillon show diverse geological soil formations. Often the soils are sparse and meager, forcing the vines to root deep in order to survive dry periods. In the south, in the Banyuls appellation, brown eroded slate soils with boulders and sandy alumina soil are found. The Rivesaltes and Muscat de Rivesaltes appellations have many different soil types: the south and west are dominated by eroded elements from the mountains, stony terraces are to be found along the rivers and pebbles in sandy alumina soil in the north. In addition, there are calcareous soils, sandy granite soils and gneiss. Black slate and slate marl determine the appellation Maury Doux.
The appellations Muscat de Frontignan, Muscat de Lunel and Muscat de Mireval lie on the Mediterranean Sea near Montpellier on predominantly alluvial soils. In the Muscat de St-Jean-de-Minervois appellation, the vines thrive, as do the bushy garrigue on limestone soils. The vineyards of Beaumes-de-Venise are also on limestone-containing marl-sand formations. Rasteau lies on marls of different structure, ranging from sandy clay to clayey sand. Slate dominates Cap Corse and limestone formations can be found in the Patrimonio area.
Learn more about Viticulture, Vinification, Grape varieties and Wine Styles of Vin Doux Naturel.