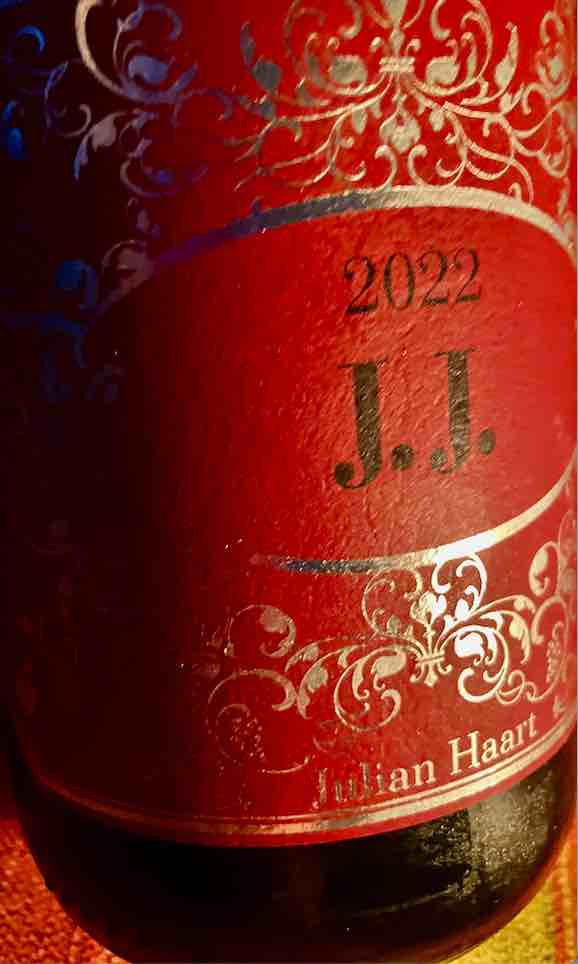 Some of the most sought-after wines are those from Julian Haart. Growing up in an extremely traditional winemaking family, he has been running his own winery since 2010 – after years of apprenticeship or rather learning with Schönleber, Heymann-Löwenstein, Egon Müller and Klaus Peter Keller.
We have tasted his Riesling Kabinett J.J. 2022, whose grapes derive from steep slopes of the winery,mainly from the Piesporter Goldtröpfchen but also from the Falkenberg location slightly above on the same slope. It remains open, whether the name J.J. is a tribute to the lightness of J.J. Prüm's Kabinett wines, or whether it refers to the first name combination Johann Josef, which is more commonly found in the Haart family – just as the son of the family Julian Haart is called. Maybe it even refers to both.
Hans combined the J.J. Kabinett wine with an apricot tart with rosemary, which Patricia had spiced up not only visually but also in taste with lavender flowers. The wine went very well with this because, in addition to being sweet enough to match the sweetness of the tart, it also had enough acidity.
Riesling Kabinett J.J. 2022, Julian Haart (Tasted wines)
Delicately yeasty, full-bodied, delicate tannins, extremely subtle sweetness, fine fruitiness, typical of the variety, slight minerality, very good, dancing, floating wine.
It is not immediately clear from the label whether the wine is dry or residually sweet. However, the alcohol content of 8.5% vol. indicates that it is still sweet. Kabinett wines may be made from grapes with at least 73 Oechsle. With the associated sugar content of around 168 g of sugar, the wine can reach a maximum alcohol content of 10% vol. For every percentage point lower in alcohol content, around 17 g of residual sugar remains in the wine. If the alcohol content is 9.0% vol., there is a residual sugar of 17 g, and if the alcohol content is 8.5% it would be around 25 g. However, since it is also permitted to develop grapes with sufficient sugar for late harvest or Auslese and bring them onto the market, this also results in Kabinett wines with a higher alcohol content. A Kabinett wine made from grapes in the late harvest range would therefore have at least twice the residual sugar with a declared 9.0% vol. Everyone has to decide for themselves at what alcohol content a Kabinett wine does not longer produce the light Kabinett style. Personally, I prefer cabinet wines that have a maximum of 10.0% ABV. But what is more important is that, in addition to the lightness, the interplay of sweetness and acidity is right. The 2022 J.J. fulfills both terrific.