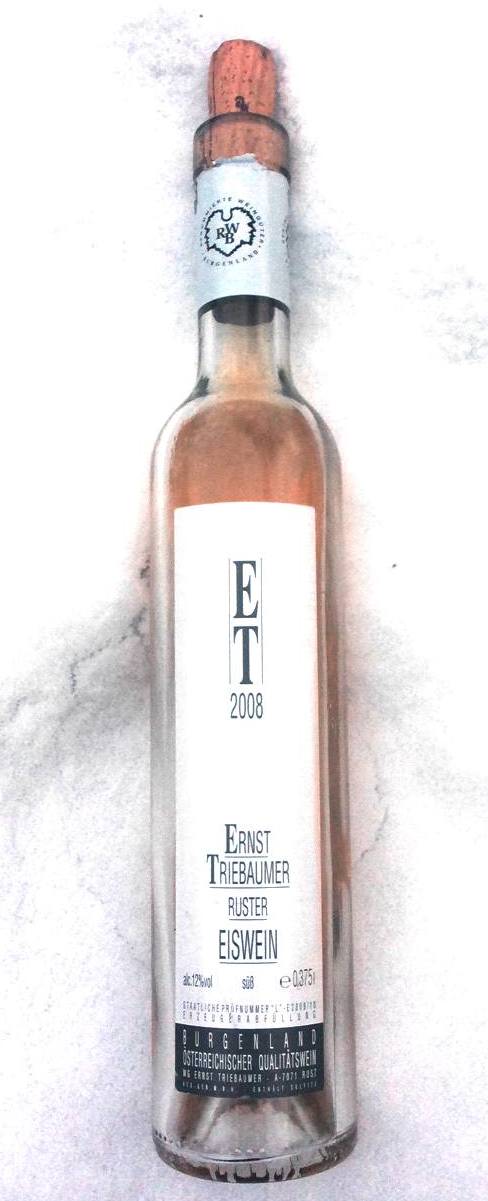 Rust is known for his outbreak, his storks and the legendary Blaufränkisch Mariental 1986 by Ernst Triebaumer, who was the winner in three of the most important world wide red wine competitions and so significantly contributed making the Blaufränkisch internationally known.
In Rust, wine is cultivated on different soils. There are crystalline rock, sediments of shell limestone, clay, gravel and also loess. The wines around Rust flourish in an climate, which is protected by the Leithagebirge west from the westerly winds and is also significantly influenced by the water surfaces of the eastern Neusiedlersee. Despite this climate, some winters are cold enough to produce ice wine, though not all. We tasted a Ruster Eiswein 2008 from the winery Ernst Triebaumer, a cuvée from Grüner Veltliner, Gewürztraminer and Welschriesling.
Ruster Eiswein 2008, Weingut Ernst Triebaumer
Bronzed gold yellow. Candied notes of orange peel and physalis as well as delicate spice in the nose. Very fine acidity on the palate, noticeable and lively, with the delicate sweetness of citrus notes and aromas of tropical fruits, underlaid with spicy notes, which together contribute to the very long finish. Excellent wine.