The Schäfer-Fröhlich winery has been family-owned for over 200 years and is still a business in which the whole family contributes their work. In addition to the two monopoly vineyardss Stromberg and Felseneck in Bockenau, the Monzinger vineyards Frühlingsplätzchen, Halenberg and Kupfergrube as well as the Schlossböckelheimer Felsenberg are managed.
Ti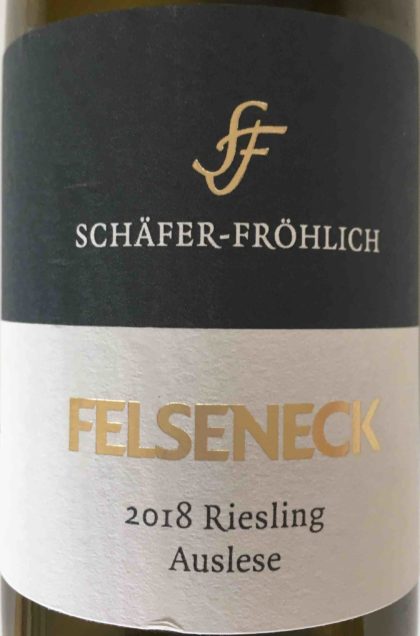 m Fröhlich, owner and cellar master of the winery, is known for his use of wild yeasts, which should give the wine a complex, authentic variety of aromas in order to reflect the character of the location and the terroir. Other prerequisites for a terroir-authentic wine are, in addition to a spontaneous fermentation, healthy, fully ripe grapes, low yields, manual harvesting of the grapes and a careful pressing.
We have tasted a Riesling Auslese 2018 from the Bockenauer Felseneck, a south-facing, 30-70% steep vineyard, in a side valley of the upper Nahe. It is said that the terroir of this vineyard gives the wines a very fine minerality and good shelf life. This is said to be due primarily to their rocky soils, which can be warmed up easily and consist mainly of blue Devonian slate, basaltic gravel and white-gray quartzite.
Riesling Auslese Bockenauer Felseneck 2018, Schäfer-Fröhlich (Tasted wines)
Delicately yeasty, with slight fermentation notes, subtle fruity and slightly floral to vegetal notes, juicy, elegant, present acidity, slender, taut, stone fruit, citrus fruits, a hint of tannin, fine minerality, very good, long, cool fruity finish, excellent wine.