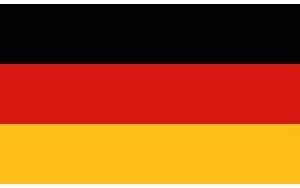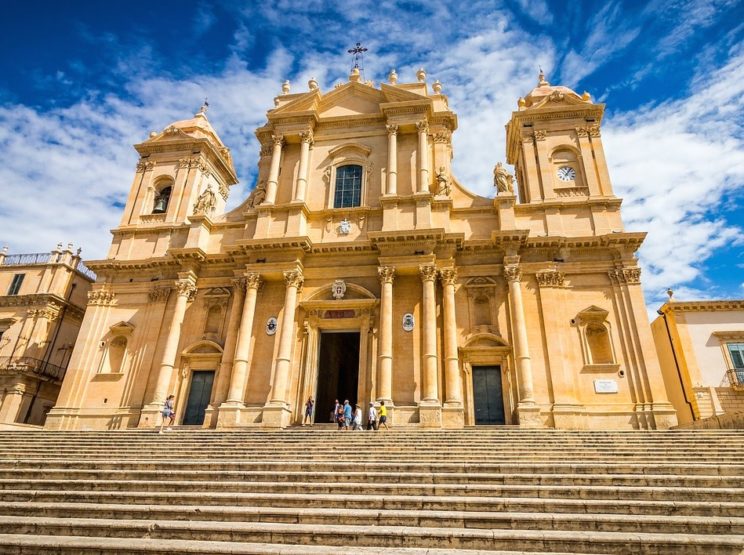 The baroque splendor of Noto is known beyond the borders of Sicily. Less known, however, is the Moscato di Noto from the variety Moscato Bianco pressed. The variety is quite common in Italian sweet wines. The Moscato di Noto is often sweet – but it is also traded in a dry version. In the regulations of the DOC Noto the sweetness of the wine is not determined, only aromatic and varietal should the Moscato di Noto be.
Exactly to the letter of the DOC regulations, however, the other three variants of the Moscato di Noto must be. The Moscato di Noto Spumante must have more than 50 grams of residual sugar. For the variant Liquoroso, in which the fermentation with alcohol may be interrupted, if an alcohol content of 6.5% Vol. has been reached, the DOC regulates the wine taste with sweet, pleasant, warm and velvety. In the third version, the Passito di Noto also called Moscato Passito di Noto, a drying of the grapes must be done either on stick or after harvest with one of the permitted methods and according to the DOC, the wine has to be sweet, aromatic and pleasant.The grapes for all of these varieties of Moscato di Noto can only come from four communities in Sicily: Noto, Rosolini, Pachino and Avola, all located in the province of Siracusa. In vineyards up to 300 meters altitude, the grapes grow under the hot, Mediterranean climate with very low, usually in winter and spring occurring precipitation of only 400 mm annually, which is why the DOC regulations probably allow irrigation in emergencies.
Although the grapes must be from a strictly defined area, they may also be processed outside this area, namely throughout the province of Siracusa and in the municipality of Ispica in the province of Ragusa.
Also, the tasted Mosacato di Noto Notissimo of the Azienda Vinicola Riofavara comes from Ispica, a wine produced mostly without dried grapes, only in special vintages with a maximum of 10% of dried grapes.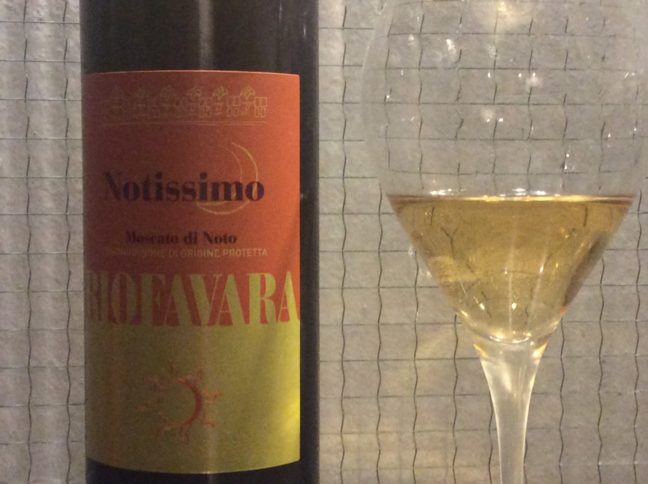 Notissimo Moscato di Noto 2014, Riofavara (Price)
Strong scent of muscat grapes, in the taste also, good finish with herbaceous notes, rather low complexity, very varietal, very drinky, subtly sweet, good wine.