There was mascarpone ice cream with oven-roasted strawberries for dessert, plus a Pius Auslese 2022 from the Klaus Peter Keller winery. A very well-known winery, above all for its elegant dry Riesling wines, but also for its sweet wines, which are among the best.
Pius Auslese 2022, Weingut Keller (Tasted wines)
Passion fruit, orange peel and a hint of pineapple on the nose, good draw on the palate, restrained but perceptible sweetness, fine acidity, passion fruit and a round dance of tropical fruits, coordinated with fine citrus notes and just a little bit of nutmeg, very long, tropical fruity finish with delicately bitter, promoting salivate. Excellent wine.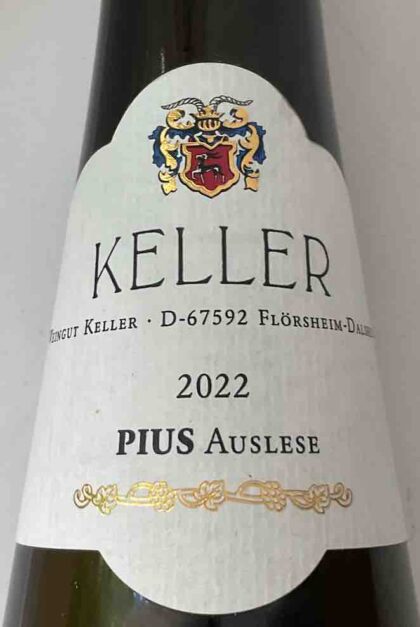 This Auslese was surprising because of its tropical-fruity aroma, which, as it turned out, probably comes from the Huxelrebe, which is part of the Cuvée alongside Riesling and Rieslaner – not from the Scheurebe, as initially suspected. However, Herr Scheu is the breeder of the Huxelrebe (Chasselas x Muscat Précoce de Saumur), which owes its name to the gardener Huxel, who made it famous in the 1950s.
A little more than 350 hectares are planted with Huxelrebe in the German wine-growing regions, with a further decreasing trend, to be found mainly in Rheinhessen and in the Palatinate. In view of the variety's positive characteristics in terms of yield, ripeness, aroma and acidity, one might assume that it is used more in sweet wines. However, it seems that it is not so easy to find the ideal balance of sweetness and acidity in Huxelrebe sweet wines and thus create the right framework for the intense aromas of the variety, which range from apricot and passion fruit to honey and spices to musk.
With the Pius Auslese 2022, this was extremely successful in the interaction of the cuvée partners.