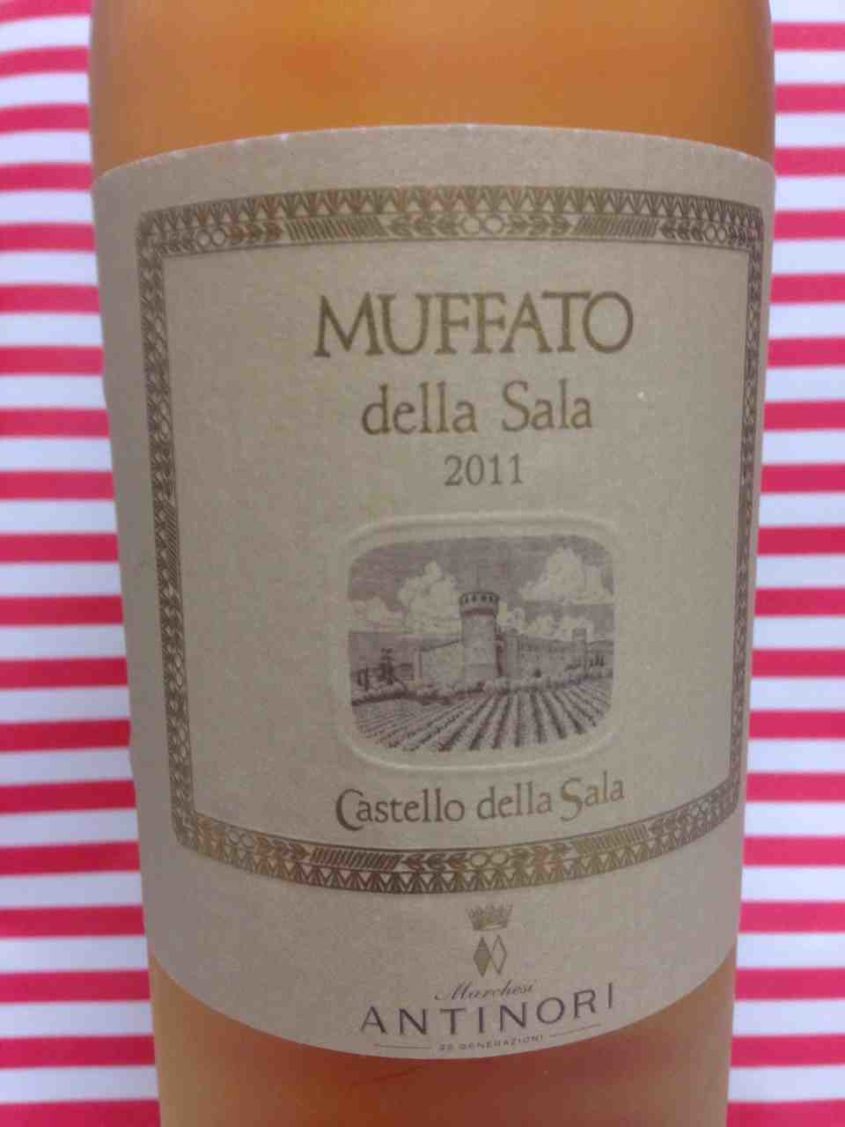 At our Italian evening Hans and I agreed in the judgment of the Muffato della Sala 2011 by Castello della Sala: In the nose like Sauternes, on the palate somehow stronger, the sweetness a bit too noticeable, there are some similarities with Passito, nevertheless no Passito – in short one very good, original Italian sweet wine.
The Castello della Sala, a winery owned by the Antinori family, is located near Orvieto. There, on soils infused with fossils, loamy, from sedimentary and volcanic origin, the vines for the muffato flourish. The Muffato is made from 60% Sauvignon Blanc, the remaining 40% comes from Grechetto, Semillon, Traminer and Riesling. Classified as IGT Umbria, it is an Umbria bianco passito, which has only few regulations by law. Passito can be produced in Umbria from dry to sweet, only the level of sugar-free extract and the minimum acidity of 3.5, grams per liter are regulated by law.
Like in Sauternes, the grapes are harvested by hand in several consecutive cycles. When harvesting, it is necessary that the grapes, at least in part, have muffa nobile, the noble rot, so are infested by Botrytis Cinerea, which is usually the case at the beginning of November . However, the harvest time also depends on the individual ripeness of the individual grape varieties. In 2011, the harvest began in late October with Traminer, followed by Riesling, Sauvignon and Semillon, graduating in late November was Grechetto.
The harvested grapes are once more selected in the winery, even as in Sauternes. After a gentle pressing, the must has been fermented for about 18 days at about 17 ° C. Then the wine is aged for 6 months in French oak barrels. Afterwards the assemblage takes place, then after a few months in stainless steel finally the bottles are filled.
Muffato della Sala 2011, Castello della Sala (Tasted Wines)
Golden yellow with orange reflections. In the nose botrytis, apricot, orange marmalade and floral notes. Present sweetness on the palate, good mineral notes, delicate herbaceous notes, powerful, long, spicy finish, carried by citrus notes and delicate bitterness, very good wine with round, very well balanced acidity.