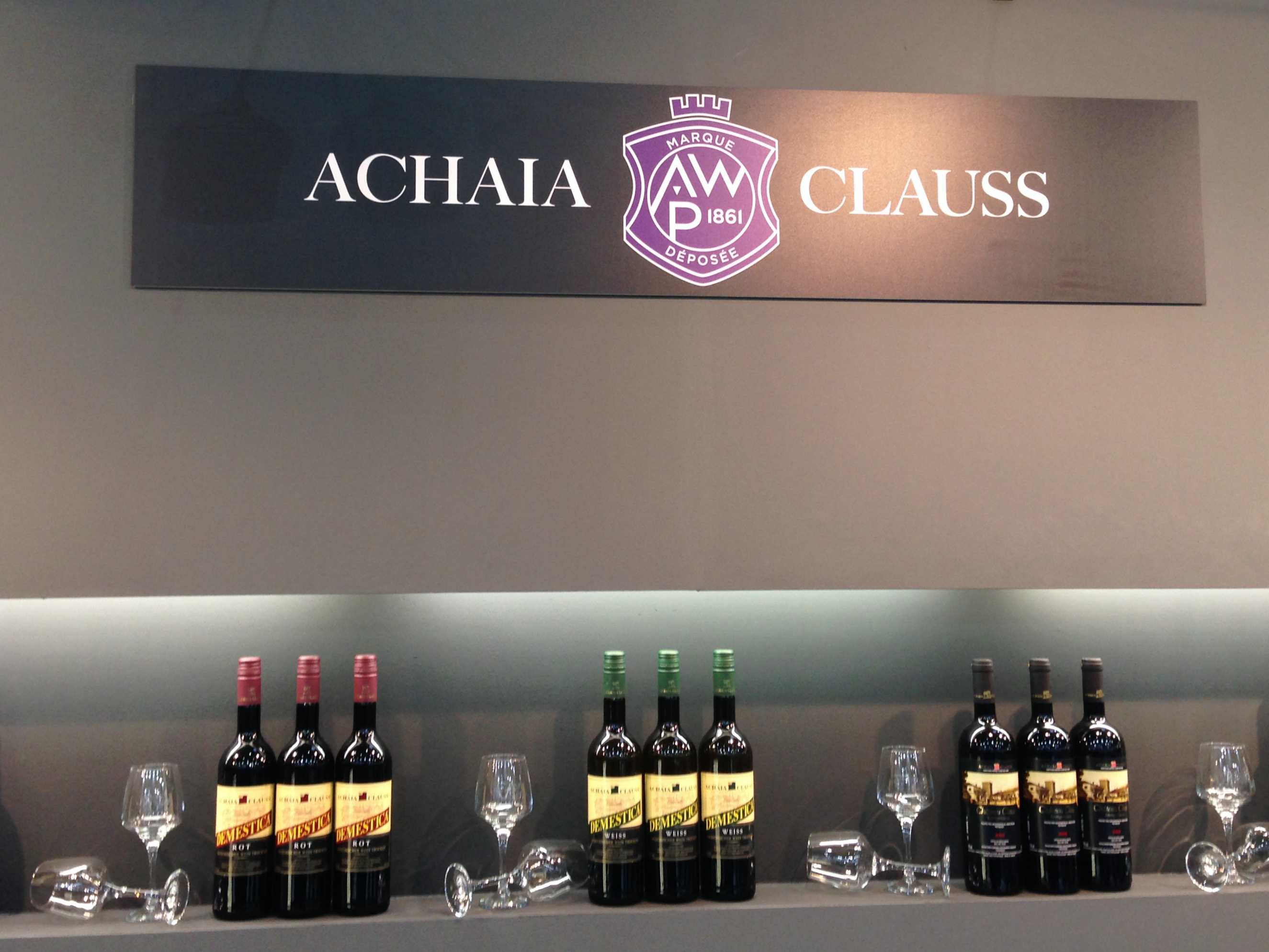 Greece is one of the oldest wine countries and better known for its dry wines and its indigenous grape varieties, but less for its sweet wines, except perhaps for the sweet Samos wines and the Vinsanto of Santorini.

More than 60 suppliers from Greece attended the fair Prowein 2015, including Achaia Clauss from Patras, a well-known wine producer in Greece. Three sweet wines of this manufacturer I have tasted at the fair Prowein. One of them, rather simple and uncomplicated, scores with its fruitiness and its price (see Tasted Wines). The second one is more complex, showing a good balance at a very attractive price. The third, a long matured wine, shows high complexity and impresses with a very good balance and very long finish.
These characteristics also apply to the sweet wine of the nearby Sparta-based Monemvasia Winery, the
Monemvasia Malvasia PDO 2010, Monemvasia Winery
Colour of middle amber, in the nose very ripe apricots, raisins, dates, orange zest and a little bit nut. On the palate it is very nice balanced with sweetness and minerality, very good wine with very long finish.
Grapes used to produce this wine are the white, aromatic varieties Monemvasia, Kydonitsa, Asproudi and Assyrtiko, a grape which is rich in acidity even when ripe . The wine obtained of these mature, sun-dried grapes is aged for 24 months in a wooden barrel.
The sweet wines of Achaia Clauss: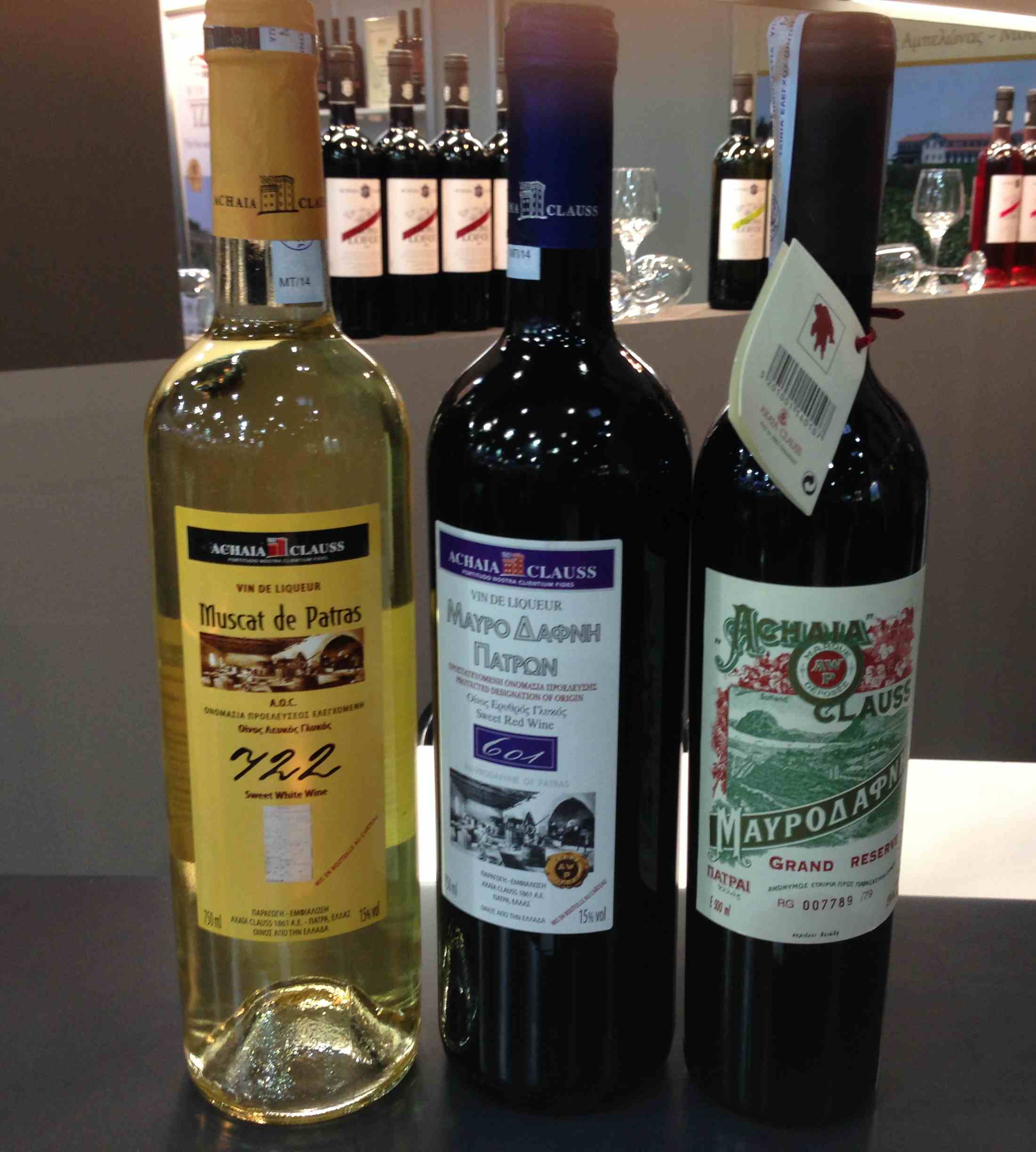 Muscat de Patras 722 PDO, Vin de Liqueur, Achaia Clauss
Golden colour, grape aromas, some apricot and citrus, the sweetness is slightly dominating, on the finish slightly herbal notes. A simple, uncomplicated wine which, well cooled makes fun by its fruitiness.
For this liqueur wine, the juice of ripe, sun-dried Muscat grapes, before starting the fermentation, is fortified with high-percentage alcohol from grapes until a alcohol content of 15% by volume has been reached.
Mavrodaphne from Patras 601 PDO, Vin de Liqueur, Achaia Clauss
Dark amber colour, aromas of very dark red fruits and plums, as well as dried fruits in the nose and on the palate too, round body, very mild tannins, a surprisingly fresh acidity, good balance, nice finish.
In addition to the prescribed share of at least 51% Mavrodpahne this wine also contains Mavri Korinthiaki (49%), high in acidity and low in tannin. The fermentation is interrupted adding high-percentage alcohol when during the fermentation the wine has reached alcohol content iof about 4% by volume. Ageing is done in used, large and small oak barrels for more than six years.
Mavrodaphne from Patras Gran Reserve PDO, 1997, Achaia Clauss
Dark brown colour, nut, tobacco and medicinal notes in the foreground, backed by spices and notes of dry fruits. Very dense and complex, fine, round tannins, excellent balance through the fine acidity, very long finish carried by tobacco and medicinal notes.
Made from 100% Mavrodaphne, bottled in 2010. The name Mavrodaphne goes back to the native Bavaria founder of Achaia Clauss, Gustav Clauss. Supposedly, the name is to remember his late dark-eyed fiancé Daphne, as mavro means black.
Conclusion: Very good quality has its price! This was reflected again in these Greek sweet wines. The two complex wines with a very long finish are both priced close to 50 €. For those people who do not need or want so much complexity, the good wine Mavrodaphne 601 offers excellent value for money. However, drinking pleasure can also be prepared by the well-made Muscat wine.
Learn more about greek sweet wines and muscat wines.