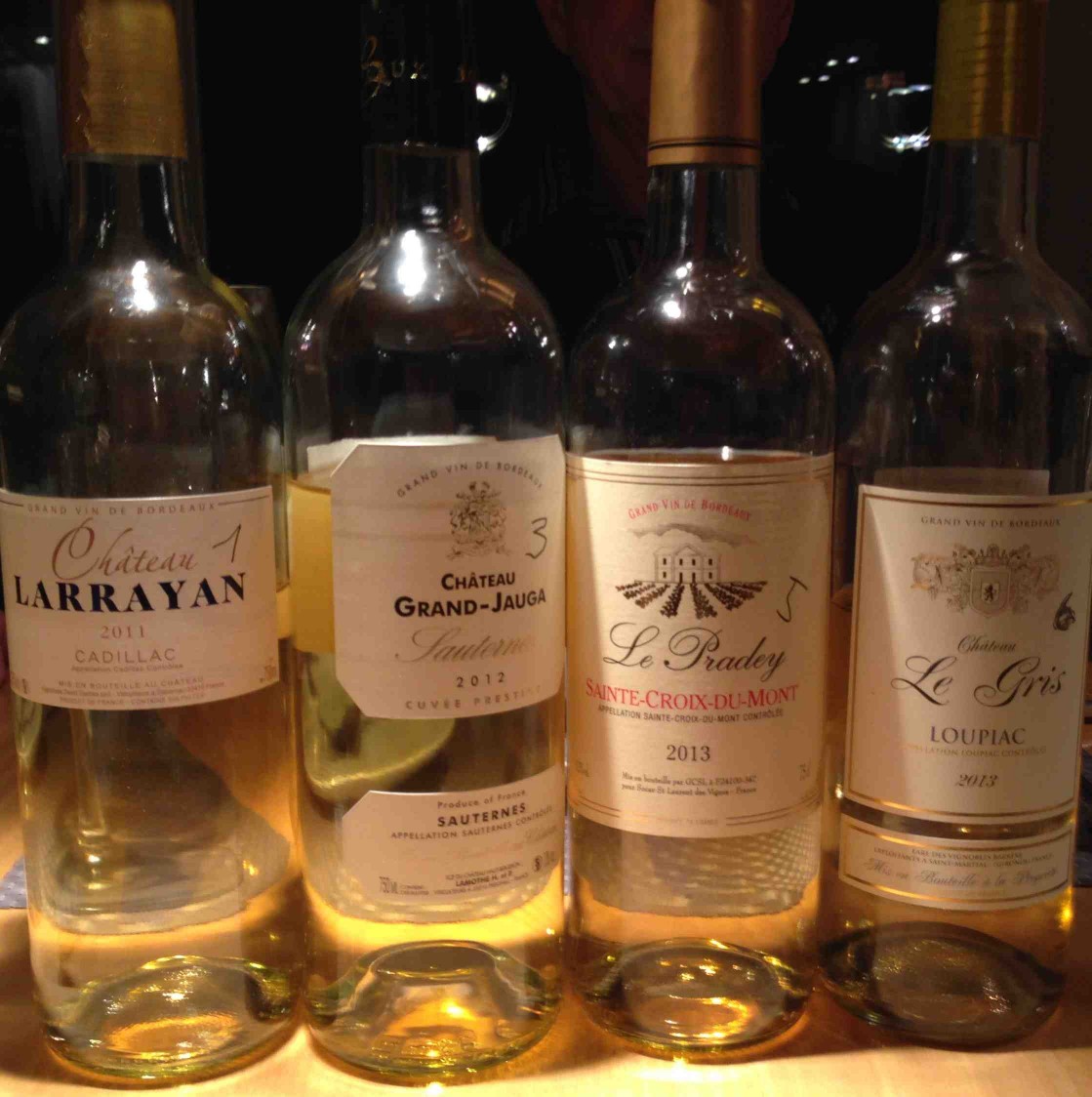 Sweet wine can achieve very high prices, such as Trockenbeerenauslese by Egon Müller from the location Scharzhofberg, whose price may be up to the middle four-digit range.
Wines on the other end of the scale can be found in Lidl's online list. In addition to high-priced Sauternes from Château d`Yquem you can also buy very cheap French sweet wines from the Bordeaux. We have tasted four of them, from different appellations, with prices of about € 4 to € 10 per 0.75l bottle. We tasted the wines blind, along with two other Sauternes from other sources. (Prices)
None of the wines, we bought at Lidl, really enthused us. Best we liked the Loupiac with its firm character and its light minerality, partly the Cadillac, which was complex but not very harmonical. Least of all we took pleasure in the Sainte-Croix du Mont, showing so many not very pleasant flavors. The Sauternes wine of the Château Grand Jauga ranks just ahead of it, but has not been very expressive.
Cadillac AOC Château Larrayan, 2011
light straw yellow color, pear, peach, some botrytis, some jammy fruit in the mouth, light bitter almonds, warming the palate, good finish, overall a bit inharmonious
Le Pradey Sainte-Croix du Mont AOC, 2013
light straw yellow, slightly musty-dusty in the smell, in the taste cabbage notes, a little peppermint-like, medicinal, appears little sweet.
Loupiac AOP Château Le Gris, 2013
medium straw yellow, restrained in the aroma, apple, mint, on the palate pear, applesauce, a bit mineral, herbaceous, not very sweet, very firm in the mouth
Sauternes AOC Château Grand Jauga, 2012
light straw yellow with green reflections, restrained nose, slightly pear, slightly bitter herbaceous notes in the mouth, persistent warming on the palate
Out of the two other Sauternes wines, we found the Carmes de Rieussec good to drink, but a bit too flat, though quite complex in the scent. Ultimately convinced us only the Château de Myrat, especially since its sweetness is very harmoniously involved.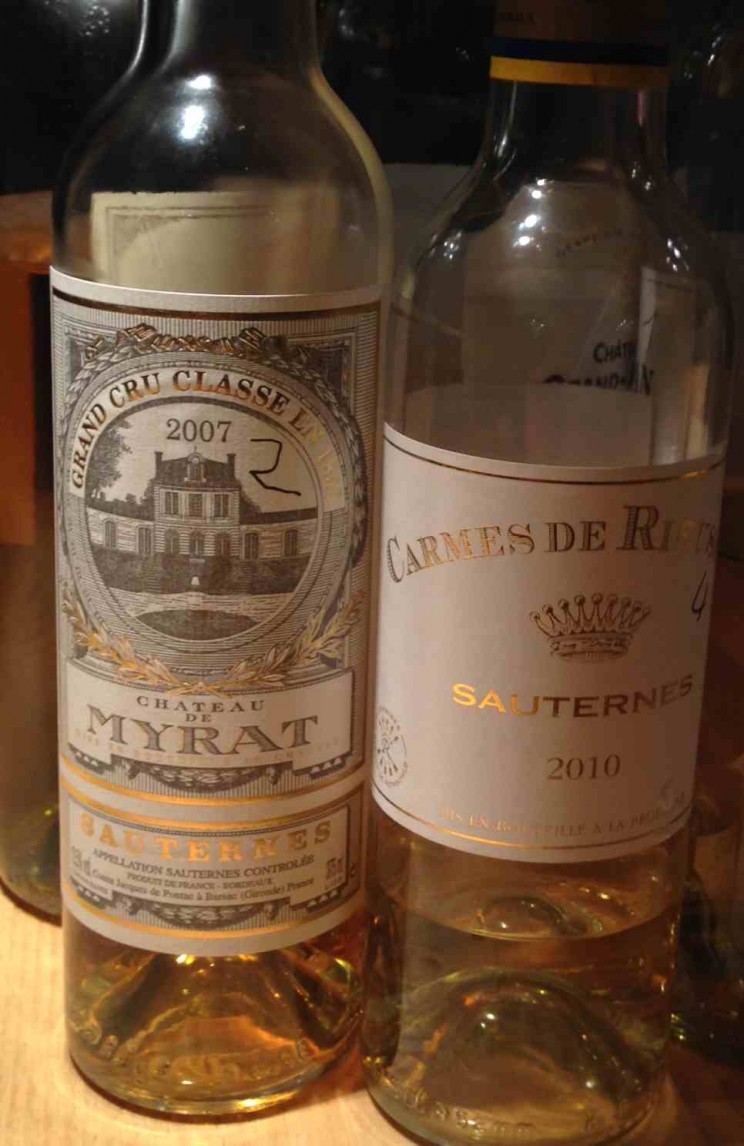 Château de Myrat 2eme Cru Classe, 2007
light amber, apricot on the nose, dried fruit, botrytis, some pineapple and light medicinal and spicy notes, very nice balance, round, harmonious, attractive finish
Carmes de Rieussec, 2010
very light golden yellow, apricot and light glue in the nose, in the mouth wide spiciness, juicy pineapple, some peppermint, harmonious, but somewhat flat
Finally, with the exception of the Sainte-Croix du Mont, we have tasted all the wines for the following blue cheeses: Roquefort, Stilton, Bleu d'Auvergne and Gorgonzola dolce. All three Sauternes fit well to very well to Roquefort, to Stilton the Loupiac harmonized best. For the Bleu d'Auvergne, the best was the Château Grand Jauga, to the Gorgonzola dolce only the Château de Myrat.
More informationes: Sauternes