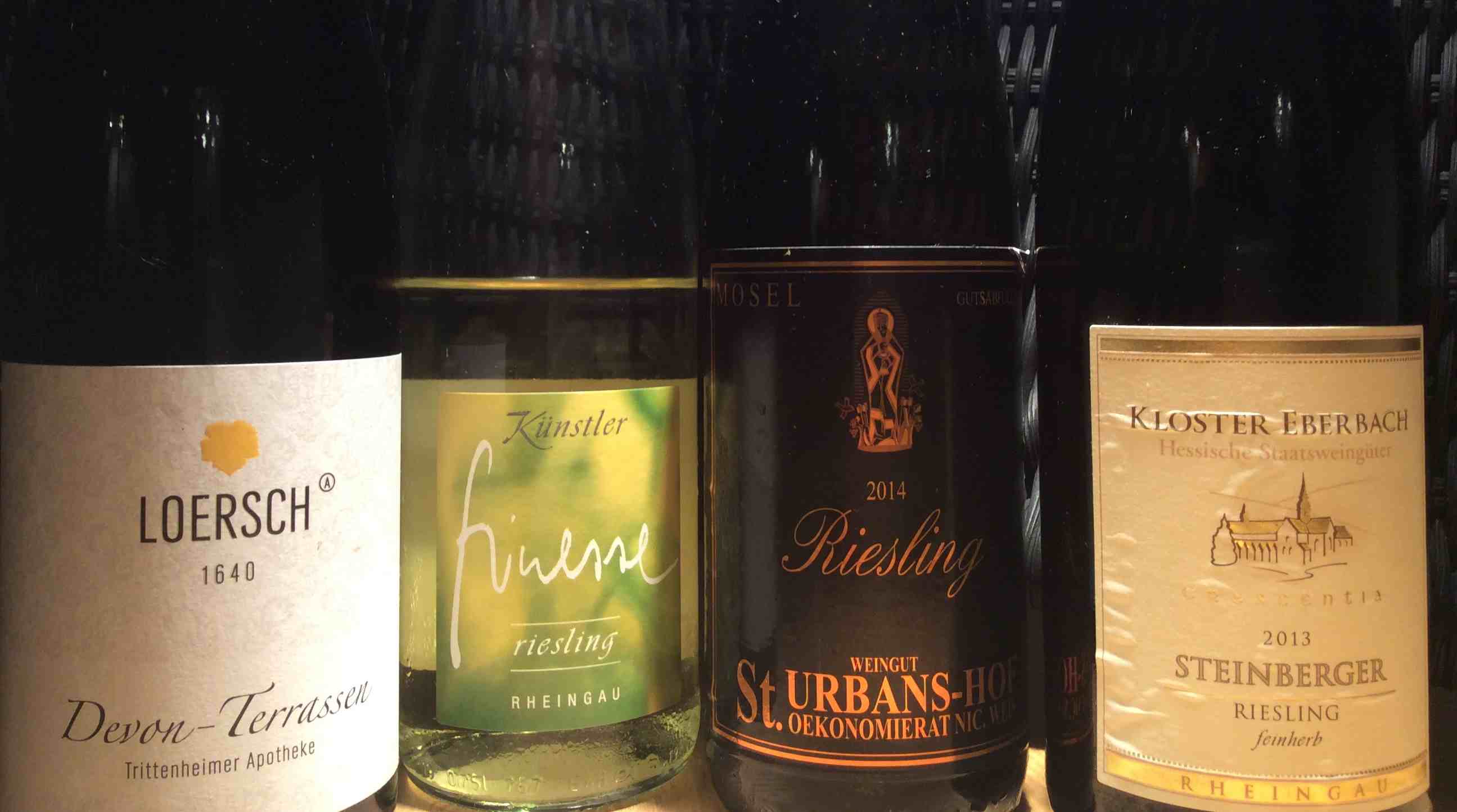 The term feinherb is used to my knowledge exclusively in Germany and often in connection with Riesling. Good dry Rieslings can be found for less than 10 euros, even in the wine shop.
So I ordered three feinherb Rieslings (tasted wines), feinherb at least according to the seller – all three under 10 €. 
The Rieslings have been produced by VDP wineries, so not exactly unknown manufacturers. From the Rheingau came the Riesling 2014 Finesse of the winery Kuenstler with 12.5% Vol. Alcohol and the Steinberger Riesling 2013 feinherb of the Staatsweingut Kloster Eberbach, from the Mosel the Riesling 2014 of the St. Urbans-Hof – both with 10.5% Vol. In addition there was a dry Riesling 2014 Devon-Schiefer , Trittenheimer Apotheke of the winery Loersch. If none of the feinherb Rieslings fits well, it was supposed to accompany our food.
Riesling 2014 Devon-Schiefer Trittenheimer Apotheke, Loersch

Medium straw yellow, very concentrated and complex on the nose. Bread and yeasty as well as herbal, floral, perfume-like notes complemented by delicate hints of mandarin and white peach, complemented by mineral and flint stone notes on the palate, clear, juicy-tight entrance and a present, but not intrusive acidity. Long finish, good to very good wine.
We did not like at all the Riesling 2014 Finesse from the winery Künstler when we tasted it for the first time, as its dominant flavor has been a little bit ester-like and the wine itself not very harmonic. One day later, the wine presented itself from a much better side.
From pale straw yellow, it showed delicate aromas of fruit, mainly citrus and slightly herbaceous notes in the nose, these flavors were accompanied by kiwi and some pineapple. Fresh, with just the same acidity, only a slightly sweet with a medium-length finish, good drinkable on hot summer evenings.
Riesling 2014, Sankt Urbans-Hof
Light green straw yellow, green apple on the nose, light apricot, delicate honey, mineral notes, juicy on the palate, very nice play of sweetness and high, but round acidity. Apple, citrus and mineral notes backed by light honey sweetness continue in the almost long finish, good wine.
Steinberger Riesling 2013 feinherb, Kloster Eberbach
Bright straw yellow. Restrained nose, tangerine, light orange and some vegetal notes, yellow peaches in the taste. High, but very round acidity with notes of orange, which leaves a touch more sweetness, medium to long finish, especially the fine-juicy parts are perceptible long after, good wine, which turned out very well as a companion of melon salad with shrimp and also by Salade niçoise.
Conclusion: All Rieslings tasted have been qualitatively perfect. Favorite was, especially as it had matched perfectly to our food, the Steinberger Riesling of the winery Kloster Eberbach