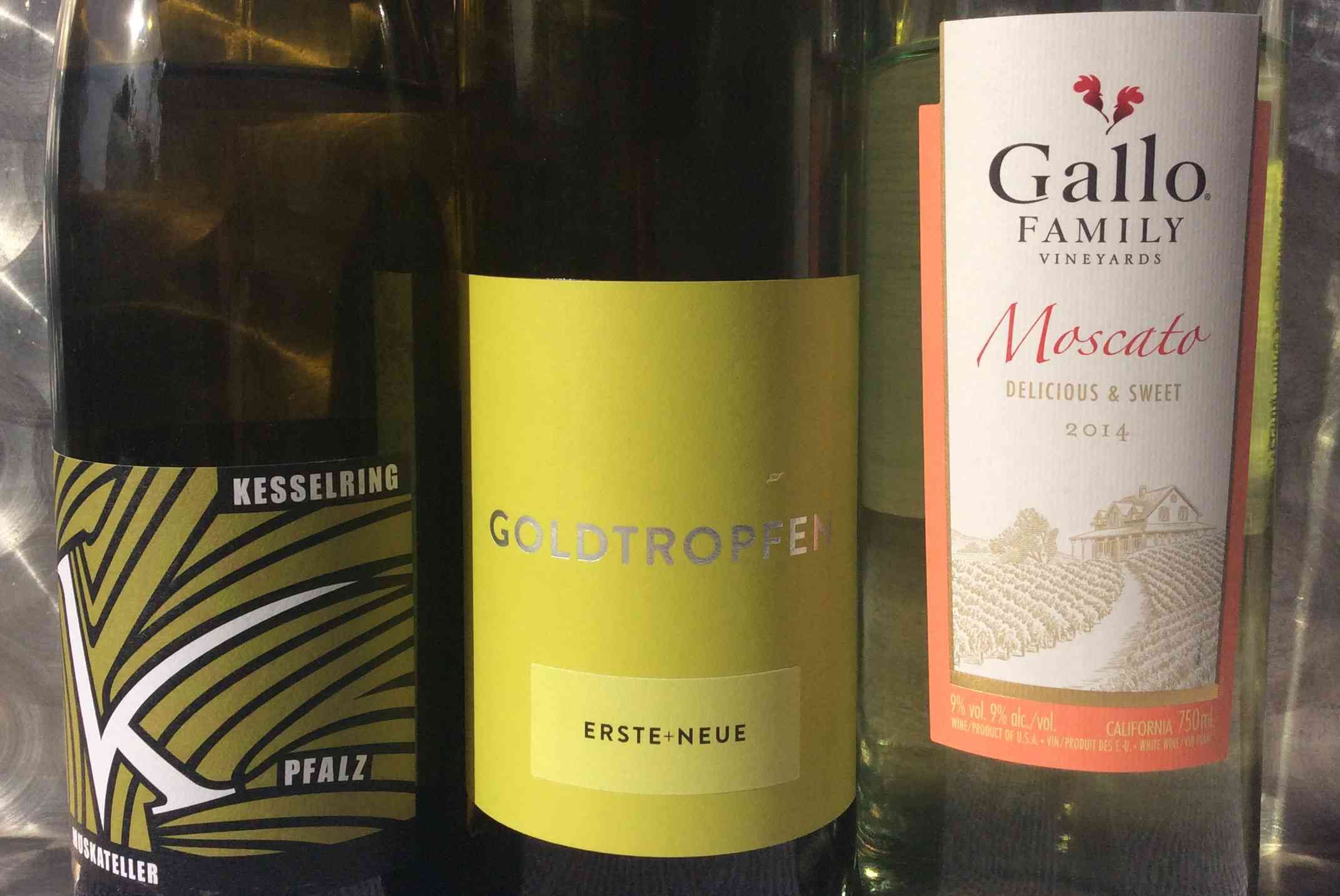 … and all priced below 10 €. We tasted three different muscat wines, two sweet wines: a gold muscatel from the winery Erste + Neue from South Tyrol and a Moscato from Gallo from California, plus a feinherb muscatel from the winery Kesselring from the Palatinate.
All are muscat wines, but of at least two different varieties: Gold Muskateller and Muscat Blanc à Petits Grains, provided that the feinherb wine from Palatinate has been made from yellow muscatel.
For quick readers ahead: None of the wines could be one of our favorites – more in the conclusion. All wines were tasted blindly.
Muskateller feinherb Bio 2014, Winery Kesselring
light pale golden yellow, some carbon dioxide, almonds, notes of muscat grapes, slightly bitter on the palate, not particularly sweet, tart acidity, slightly bitter on the finish
Goldtropfen 2014, Erste + Neue
pale straw yellow, pear, quince and muscatel notes, is not very sweet, (with 45 grams of sugar per liter clearly one of the sweet wines), has a slightly bitter, but rather long finish, (very good with a Panna cotta with wild berries).
Moscato Delicious & Sweet 2104, Gallo Familiy
very light straw yellow, little, but well visible carbon dioxide, light notes of muscat grapes, fruity and above all floral notes, somewhat perfume-like with a broad, sweet spiciness, pleasant acidity but somewhat flat in the taste, overall very sweet and somewhat artificial.
Conclusion: No wine could convince, best still the Goldtropfen of the winery Erste + Neue. Our recommendation: for the same money, – the three wines cost around 21 € (see tasted wines) – one gets a sweet wine higher in quality, where every mouthful is a pleasure and again when you remember. In this blog, there are a number of examples. As a consequence in the future we will increasingly taste sweet wines with very good qualities.
More about muscat wine.