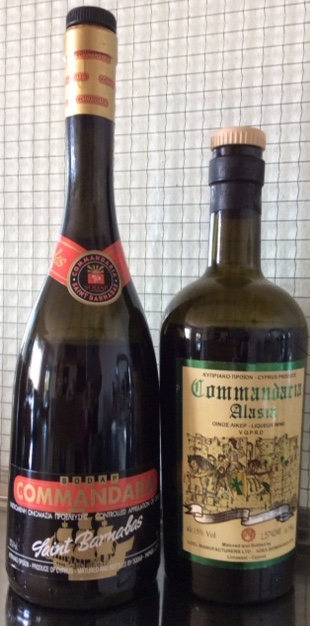 Commandaria is reminiscent of command – and really, the name goes back to the headquarters of a Crusader order, which was stationated in the region, where the from the ancient world known Cypriot sweet wine Nama was made. End of the 12th century, this headquarter named La Grande Commandarie was the eponym of this wine, which is still known as Commandaria. At that time, the export of Commandaria began to flourish and the fact of being one favorite wines of many European royal houses, has supported this.
Even today, Commandaria is made from the two most grown grapes in Cyprus – the autochthonous white grape Xinisteri (23% of all vineyards) and the red Mavro (46%) in 14 communities in the Limassol district. The grapes grow on the southern slopes of the Troodos Mountains at heights of 500 to 900 meters and are harvested fully ripe, when the Xinisteri grapes have at least 212 grams of sugar per liter and those of the Mavro at least 252 grams. Then both varieties are dried in the sun until they have 390 to 450 grams of sugar per kilogram. After separate pressing and fermentation of the two musts and a fortification with alcohol, both wines are oxidatively matured together for at least 8 years, usually in barrels according to the Spanish Solera principle.
In addition to four very large manufacturers, which also includes the Loel Manufacturers LTD, there are now more than 50 mostly smaller manufacturers. The SODAP Winery is an association of around 10,000 grape growers.
Commandaria Saint Barnabas, SODAP
Medium dark amber. In the nose fruits in rum, raisins, dates, slightly oxidative and dark barrel notes. On the palate, vanilla, cardamom, dark spices, fresh citrus aromas almost like lemon zest, some cola, licorice and curry. Fresh appearing wine with a neat finish, still in good balance. Good wine.
Commandaria Alisia, Loel
Amber with greenish-watery edge. In the scent dark barrel and coffee notes, orange, herbs. The taste is also spicy, with mint, lovage and aromas of dark walnut liqueur, some tangerine and chocolate. Very harmonious and round with a good balance and a very long finish, carried by herbs and spices. Very good wine.
Conclusion: The two Commandaria wines surprised by their complexity and freshness at a very moderate price.
More about alcohol-fortified wines and wine score.