Schilcher is the name given to the rosé-colored shimmering wine of western Styria, which is made from the red grape variety Blauer Wildbacher. From this variety mainly still wine is produced, only about 3% of the Blauer Wildbacher grapes harvested from more than 360 hectares are made into sparkling wine and even much less into red wine.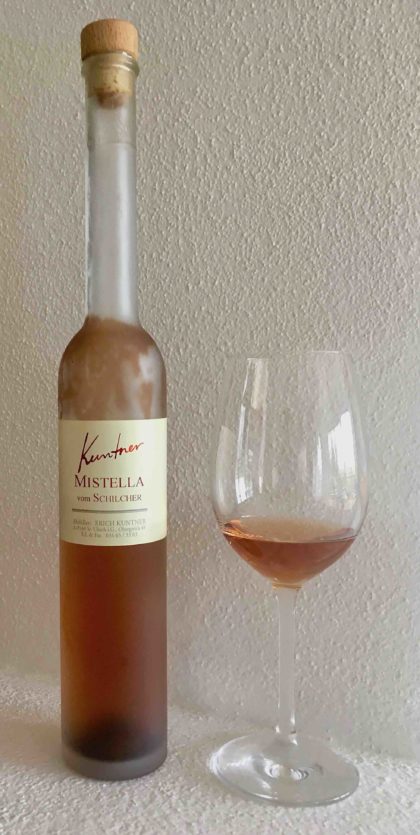 The large area under vines would justify the general use of the name Schilcher, which is common in western Styria, as it represents more than 3/4 of the total worldwide area planted with the variety. In addition to the wine region Southern Styria (~ 60 ha) and the wine region Vulkanland Styria (~ 30 ha), only the Veneto has significant aereas(~ 10 ha) planted with Blauer Wildbacher.
In western Styria, in addition to the dry specimens, Auslese, Eiswein or Mistella are also produced – so to speak, "sweet Schilcher". These sweet specimens are only allowed to show Origin Styria (Herkunft Steiermark) on the label as a designation of origin, unlike the dry Schilcher wines, whose protected designation of origin is DAC (Districtus Austriae Controllatus).
A matured mistella, stored for a little bit more than 10 years, was tasted. The name Mistella is used when grape must and alcohol are mixed. The must, usually only partly fermented, is fortified with wine spirit, such the fermentation is interrupted and the sweetness and the aromas of the must are preserved.
Schilcher Mistella, Kuntner (Tasted wines)
Light amber with reddish reflections. Barrel notes, tobacco, notes of red currants and nettle, subtle sweetness, high acidity, slim body, refreshing, with fine sherry notes in the long finish. Good wine.