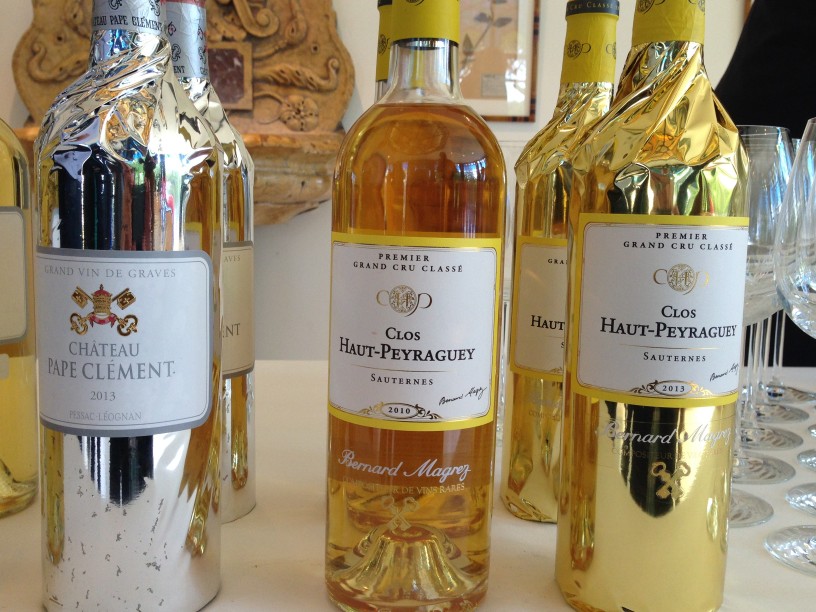 Although 2013 is often cited as one of the worst vintages of red Bordeaux wine, in Sauternes and Barsac it is generally considered to be near perfect. A hot July and August and many foggy autumn days resulted in a good harvest of botrytis-infected grapes, despite the late flowering,.
During our club trip to Bordeaux sweet wines were not necessarily in focus. Nevertheless, there were opportunities to enjoy Sauternes of different vintages. The Sauternes 2001 of Chateau de Fargues showed roasted cereal notes, subtle dried fruit, slightly smoky taste and a strong sweetness, well balanced by acidity, in the nice finish. Chateau Rieussec 1983, characterized by apricot, candied orange and white peach flavors, seemed a little firmer and more elegant and was present on the palate for a very long time.
Château Clos Haut-Peyraguey in Sauternes, which the owner of Pape Clément Bernard Magrez, bought in 2012, was also repres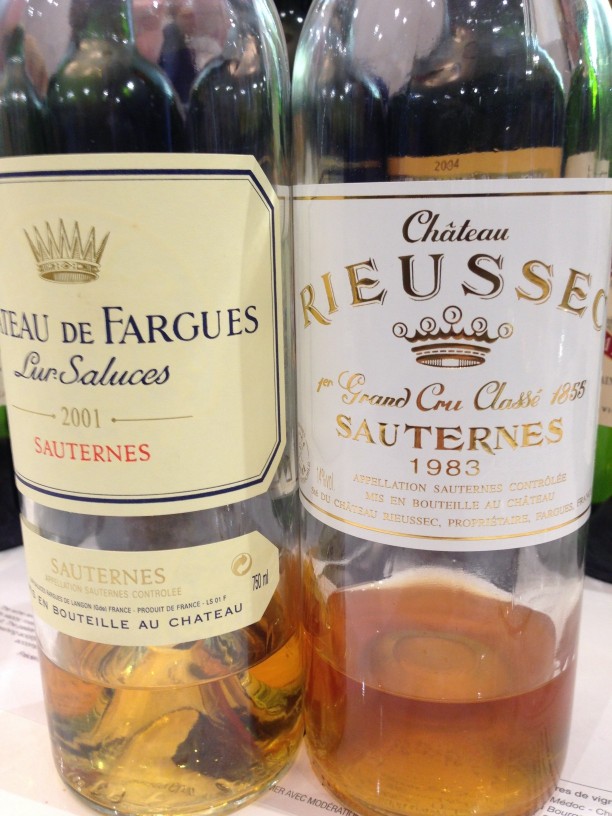 ented for the first time at the Château Pape Clément's Primeur tasting. The Sauternes of Château Clos Haut-Peyraguey – whose vineyards are located near Bommes, not far from Château d'Yquem, between Garonne and Ciron – consists of 95% Semillion and 5% Sauvignon Blanc. The 2010 wine with aromas of orange peel, tropical fruit and floral notes shows in its long finish delicate herbaceous notes. The Primeur of 2013 has a lot of pineapple, light mint and floral notes, is fresh, elegant, has a full-bodied body and a good, mineral finish. An excellent Sauternes, who promises high drinking pleasure already from 2019 – and probably until at least 2030. It is with just over 30 € for the 75 cl bottle in the trade.
During lunch at Château Pontet-Canet a Château d'Yquem 1997 accompanied the creamy strawberry dessert. A full-bodied and fresh wine with aromas of apricot, ripe pineapple and candied orange zest, – very elegant and long on the finish. At Pontet-Canet I also tasted their red Primeur, which to me, like the Primeur of the nearby Château Pichon Longueville Comtesse de Lalande, belongs to the best red Bordeaux wines of the year 2013.
The Pontet-Canet 2013, a typical Bordeaux blend of mainly Merlot, Cabernet Sauvignon with little Cabernet Franc and some Petit Verdot, is 50% expanded in the new wood. The yield in 2013 was very low with only 15 hl / ha. Full red fruit, especially strawberry and some notes of cigar on the palate, a complex body, very racy, but well integrated acidity and a firm tannin. The Pichon-Lalande 2013, on the other hand, is made from 100% Cabernet Sauvignon for the first time. This wine showed spicy currants, elderberry fruit, some herbs, a good substance and a good perceptible tannin, it leaves a fresh impression. Both wines have good potential. The wine from Pontet-Canet 2013 in the Bordeaux subscription is available for about 70 €, the Pichon-Lalande 2013 for about 75 € to 80 €.
More informations: Sauternes.