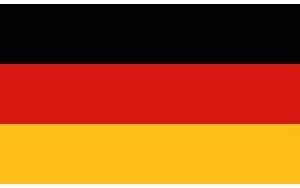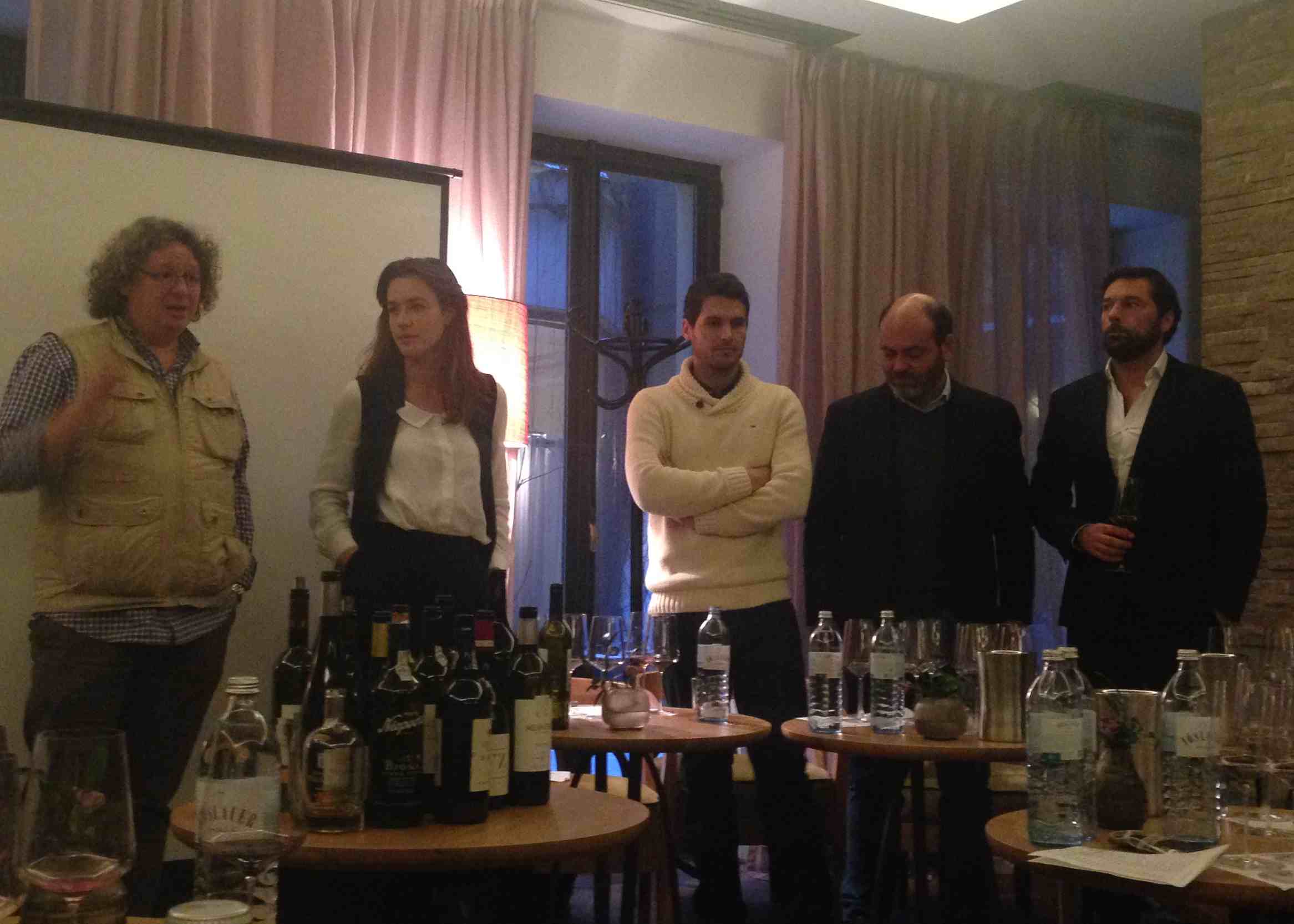 For more than 15 years, the Douro Boys are probably the best advertising medium for the Douro region and its wines. Best known are the port wines from the Douro, besides there are excellent dry, red and white still wines. To gain more prominence for these dry wines, in addition to the port wine, is a major concern of the Douro Boys. The Douro Boys are the wineries, Niepoort, Quinta Vale D.Maria, Quinta do Vallado, Quinta do Vale Meão and Quinta do Crasto, represented by Dirk van der Niepoort, Francisca van Zeller, João Roquette Álvares Ribeiro, Francisco Olazabal and Tómas Roquette, all from the respective owner families (from left in the picture).
All these wineries mainly produce still wines but of course also port wines, which is why the Douro Boys at their Masterclass on 18 January in the Munich wine bar Grapes presented mainly dry still wines, but also some port wines.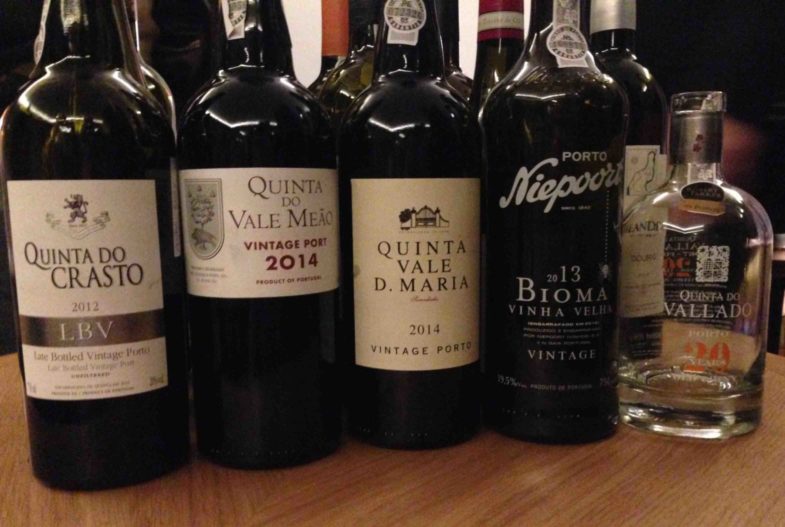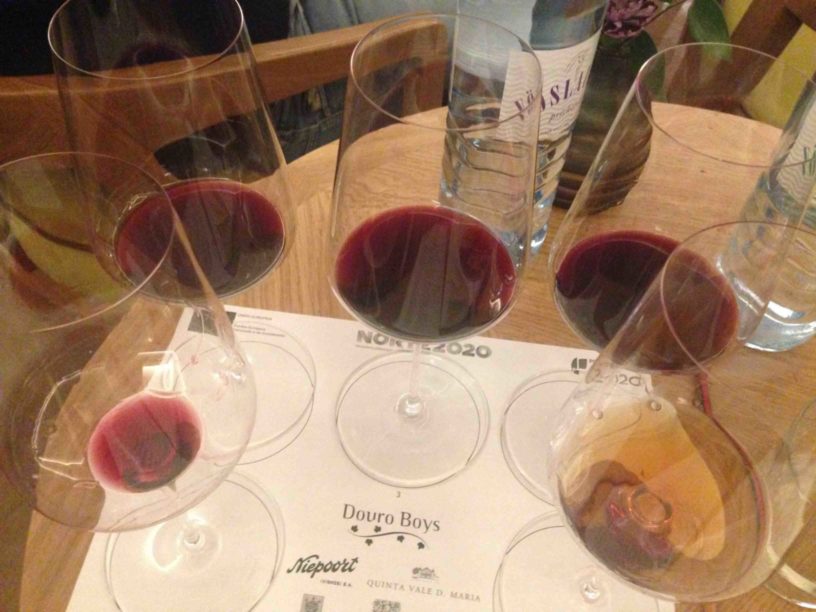 Quinta do Crasto LBV 2012
Caramel in the nose, ripe red fruits, delicate herbaceous notes. Very fruity on the palate, light warmness in a good finish, good wine.
For this wine, the hand-harvested grapes are traditionally mashed by feet in Lagares (open granite troughs), then fermented and fortified with alcohol in it. After that, the wine matures in oak barrels for at least a few years and, after bottling, has "time for evolution in the bottle", as Tómas Roquette noted.
Quinta do Vale Meão Vintage Port 2014
Dark fruit, well-balanced wine with acidity and tannins, powerful, good wine with potential.
According to Francisco Olazabal, 2014 was a good year with a good crop. He added that Touriga Franca accounts for 60% of the Quinta do Vale Meão Vintage Port 2014 and since Touriga Franca wines are slowly maturing in the bottle, the Vintage Port is still in full ripening.
Quinta Vale D. Maria Vintage Port 2014
In the nose are dominating ripe red berries, in addition some plum, delicate floral. Fruity on the palate, spicy and complex, well structured, very good wine.
Since 2006, the Quinta has produced three types of Ruby port wines out of ten of its 45 hectares: one LBV, a Vintage Port in good years and in not so good years a Reserva, according to Francisca van Zeller. She emphasized in particular that different from other producers,the grapes, cultivated in one or two rows on narrow terraces, when stomped with their feet in the lagar, are already mixed with about 15% of the planned wine spirit to increase the yields of pigments and of flavourings.
Niepoort Bioma Vintage 2013
Strong barrel and marzipan notes on the nose, very complex, ripe dark fruit. Powerful on the palate, almost luxuriant, very well integrated alcohol, very good.
From a single location of a boiler on a southern slope of 7.5 ha come the grapes for this port, according to Dirk van der Niepoort. "A location that has a lot of personality" is this and in the maturation of the wine is important to him that the wine is intense. Therefore, the maturation takes place for two years in small barrels of 550 liters, called pipes, according to ancient tradition, which means means a little loss of color but helps the wine to stabilize itself.
Quinta do Vallado 20 Years Old Tawny
Very balanced, concentrated, discreetly sweet Tawny with fine cask notes, tobacco and nuts, very elegant in the extremely long finish, excellent.
For this port wine, as always, different ages of Tawny have been blended, said João Roquette Álvares Ribeiro, including younger five to seven year old Tawnys to bring in more acid, but also a low percentage of 60 and 70 year old Tawnys. Two reasons are essential, that the Quinta today can produce mature Tawny Port, on the one hand, that all his ancestors had produced a lot of port wine and, on the other hand also stored it.
Conclusion: All port wines in Ruby style still show good development potential.
Notes: Prices of Port wines tasted, wine growing areas, viticulture in Douro, vinification, grape varieties, Ruby wine styles, Tawny wine styles.