Martin always serves one Dönnhoff wine, and there were even two at the last invitation. Grilled tuna and monkfish were accompanied by a Riesling Tonschiefer 2018 and the Riesling Niederhäuser Herrmannshöhle Auslese Goldkapsel 2015 of the winery was an excellent match with Erika's dessert, a vanilla cream with berries (blueberries, raspberries, strawberries).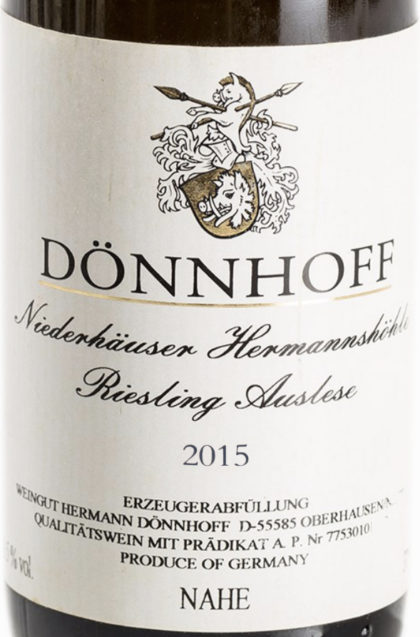 The family business has been based in Oberhausen an der Nahe for more than 250 years. Currently around 28 hectares of vineyards are being cultivated, on which Riesling, with around 80%, is the dominant variety. In the meantime, Cornelius Dönnhoff has taken on overall responsibility for the winery. His father, Helmut Dönnhoff, is known for his meticulous cellar work, which makes the wine an image of the vineyard and the vines. The wines come from ten large vine locations, the most famous of which are probably Norheimer Dellchen, Schlößböckelheimer Felsenberg and Niederhäuser Hermannshöhle. The latter one is the highest rated vineyard at the Nahe. Slate with limestone elements dominate the south-facing location with a gradient of 40 – 60%. The grapes for the tasted Auslese come from vines up to 65 years old and were selectively picked by hand. The yield in 2015 was around 20 hl / ha. Fermentation and maturation took place in stainless steel.
Riesling Niederhäuser Herrmannshöhle Auslese Goldkapsel 2015, Dönnhoff (Tasted Wines)
Fruity and vegetal notes on the nose with a hint of floor wax. Very elegant on the palate with clear, juicy fruit, citrus with notes of pineapple and passion fruit, delicate herbal, well integrated sweetness, mineral, with a very fine filigree acidity, beautifully balanced. Excellent wine that offers all its complex notes in the extremely long finish.