The name Trittenheimer Apotheke probably does not go back to a medical origin, but rather has its origin in the fact that in earlier times an abbey was the owner of this vineyard.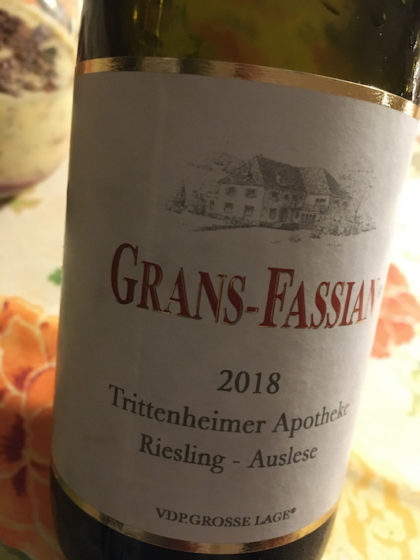 The Trittenheimer Apotheke is characterized by gray-blue, dark slate; is one of the best steep slopes on the Moselle and is located on both sides of the Moselle loop near Leiwen. The shallow location, with a lot of rock and partly interspersed with pebbles, is mainly oriented to the west. The location is said to produce mineral, elegant wines with notes of fresh herbs.
Klaus had chosen a Riesling Auslese 2018 from the VDP winery Grans-Fassian from the Trittenheim pharmacy to accompany the dessert – but not to check the predicted taste profile. However, after we have tasted the selection, we can confirm this.
Trittenheimer Apotheke Riesling Auslese VDP. Grosse Lage 2018, Grans-Fassian (Tasted Wines)
In der Nase zarte Kräuter, leichter Honig und etwas Botrytis, am Gaumen saftig, Zitrusnoten, Mandarine, etwas Orange, feine, präsente Säure, mineralisch, sehr langer feinfruchtiger von der Säure gut balancierter Abgang. Sehr guter, eleganter Wein.